BME Solutions Provides an all-in-one function for managing banknotes such as banknote sorters, data software, cash strapping machines, and more. We also offer tailor-made solutions based on a bank or business site layout, required functions, staffing, schedule, and other critical factors.
Our customized cash processing equipment solutions let owners or distributors meet any requirements banks and retail businesses need to improve operations' speed and efficiency. Receive a free consultation from our sales team today!
Cash Center Solution: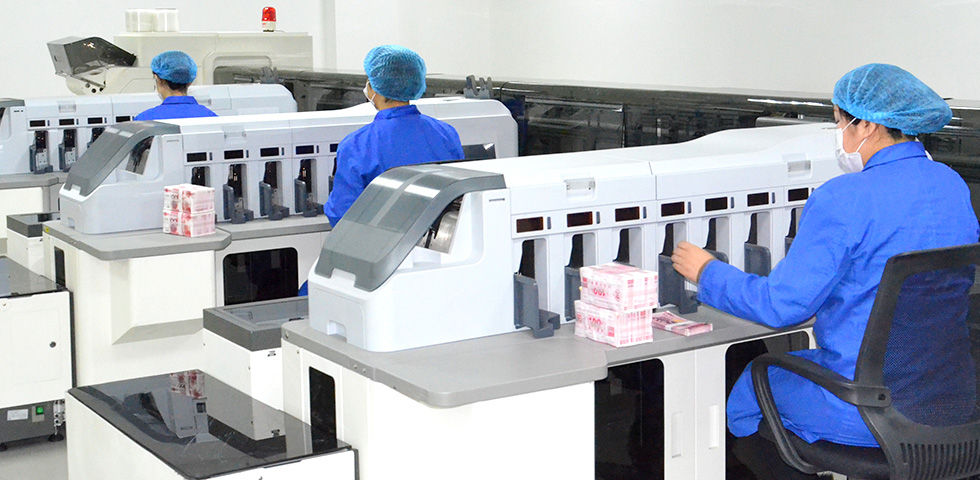 Looking for a Reliable & Efficient Cash Center Solution? We Have What You Need.
By automating cash sorting and strapping, our efficient solution can increase the efficiency and speed of commercial banks' cash processing. Our system can also be integrated into Julong's and other existing banking software to improve security and cash data processing.
Cash processing centers generally handle a high volume of banknotes from branches and other businesses like supermarkets on a regular basis. The constant management of cash requires these facilities efficient and reliable cash sorting and processing equipment to help sort and filter the money at a fast pace.
Julong addresses this demand by providing clients with accurate and efficient cash sorting machines and software. With customizable features like precise amount counting, denomination sorting, and serial number detection, our equipment is ready to tackle whatever task is needed. Making counting, transfer, and payment of banknotes between facilities easier and faster, Julong takes pride in providing clients with a well-rounded set of intelligent cash sorting and binding machines and software.
Automatic Sorting and Reconciliation
Working at an average of 280,000 notes a day per station, our standard cash processing machines deliver exact results at a quick and steady pace, supporting up-to-20 multiple cash sorting at the same time. Our custom equipment can also sort coins as you need. Cash centers can easily and precisely handle large amounts of cash from branches TCRs, ATMs, and supermarkets by our integrated solutions. Based on that, efficient and accurate daily reconciliation can be guaranteed.
Accurate Global Currency Identification
Our R&D team always keeps ahead to study the characteristics of the latest currencies published around the world to support your regional and global business. Whether it is the most widely circulated currency in the world, we have all its features recorded and regularly maintained our database to ensure the accuracy of our sorting results. With currency-detecting sensors in our equipment, our integrated system is able to read all currencies with no errors while filtering through the notes.
Julong-Developed Software for Data Management
Our cash sorting equipment comes with a highly-functional data management and tracking software. Linking to Julong's banking system, the equipment can transfer pertinent data to our proprietary software for storage and management. Get serial numbers of cash, review daily and monthly output, convert into data of bundles of cash, track real-time data via consistent information from our software and printed barcode.
Modular Layout
A modular layout is implemented with our equipment, making our cash sorting machines fit cash centers of any size. By providing our team with the layout of the office space that will use the equipment, along with processing capabilities and the number of employees, we can adjust the setup to adapt to the location with ease. As the business expands, cash centers can maximize the size of the capacity at minimal cost by adding our flexible and up-to-date cash processing equipment.
Technical Support
Whether you require on-site or remote technical support, our team is ready to provide you with amazing aftersales assistance. From commission to installation, and even with maintenance and equipment upgrading, our support team will provide the required help within 24 of request. System upgrades are also provided whenever available, ensuring the equipment is up to date.
Cash Deposit Solution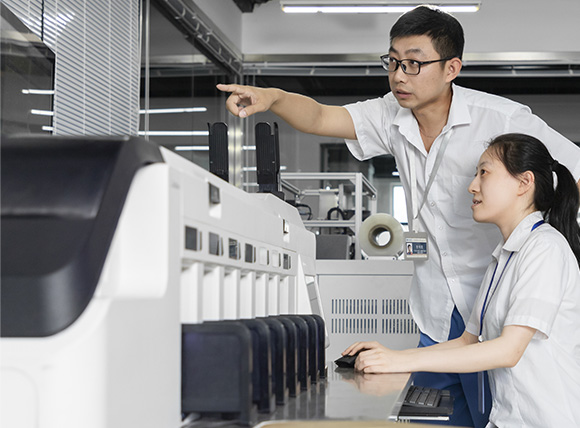 Reliable Cash Deposit Solution
Reliable cash deposit solutions from Julong provide a safe and efficient way for businesses like retail, wholesale, and commercial banks to handle extremely high cash volumes. Traceable banknote circulation improves business security and your customer's experiences.
For businesses that fuel the growth of our retail and wholesale economy, our deposit solution is ideal for handling extremely high cash volumes. Our cash deposit solution not only provides a safety case to store your cash but also make your incoming cash to be monitored in every step. Managing your cash statistics over every aspect, our cash deposit solution in such a way helps track your cash and data for the next optimization of cash circulation.
For commercial banks, our cash deposit solution is also an ideal way to provide safe and efficient VIP services to their customers who need deposit large amounts of currency in the bank. Traditional ATM or CRS self-service machines are normally located in public spaces, which will expose VIP customers under the risk. Therefore providing a better service in safety and an effective environment with our reliable and traceable cash deposit solution will definitively enhance your customer's experiences. With a strong capacity of handling cash processing, our banknote deposit solution delivers benefits to our clients in many aspects.
Improve Safety even Without Supervision
With built-in monitoring system in cash deposit machines and cash operation management platform or APPs, our solution covers overall process management to guarantee the high-level of your cash deposit business's safety. You can rest assured of the following steps:
Machine monitoring: Real-time monitoring and recording.
Bookkeeping: Accounts management for counters, stores, and services center.
Risk management: Risk prevention by supervising over every step.
Payment management: Payment process monitoring.
Cash handling: Management for cash processing and amount checking.
Serial number: Providing serial number capture function for any mistaken counterfeit notes.
Widely Used in Multiple Scenarios
Our cash deposit solution is ideal for banks, supermarkets, mini markets, gas stations, hospitals, and many other businesses.
CIT: cost-effective for both sides by using existing advantage of cash transit service
High way service: reduce numbers of time for collecting cash from different locations.
Warehouse: facilitate a large volume of cash need to be deposited every day.
Equipment Management and Software Solution
Julong's comprehensive equipment and data management platform combines serial number-based banknote circulation and cash processing machine management. We support personalized software solutions to meet all your ideas for the internal management of the bank.
Supporting Integrated Equipment and Service Platform
Base on years of successful experiences, Julong developed equipment and data management platform which has been running for more than 10 years and has undergone several improvements to achieve perfect. Our software solution has been used and certified by Center Bank and 156 domestic commercial banks.
Our software is ideal for central banks and commercial banks to manage banknote circulation and devices of sub-branches. This solution help make jobs in head offices easier by clearing at a glance at your equipment and banknote situation. We support customized configurations according to your network and requirement. Its open network protocols allow devices from different companies to be connected to our platform for unified management. Introduce our equipment and software to get a worry-free cash processing management solution. Equipped with our functional cash processing equipment, our device management and data platform can significantly improve the efficiency of cash management and safe internal data management.
All-Around Remote Data Management
Comprehensive equipment management including prompt notes for equipment maintenance, cash equipment status inquiry (normal or malfunction), remote modification of login password to ensure the internal data security of the machine, software remote upgrade management for a single machine or machines in an area, remote debugging and modifying parameters to ensure machine keeping in working, and identify specific equipment failure problems. All-in-one system and platform is easy to operate for managing daily cash processing business.
Flexible Data Management
Data management and real-time data inquiry are the highlights of our platform. You can check statistics of sorting banknotes visually by a diagram and generate XML files to upload the server for archiving. In addition, our system supports checking system logs directly in the system folder, real-time checking where is the machine located in currently, monitoring the number of online machines, monitoring the working mode of registered machines, checking cash processing statistics, looking back upon the number of online devices in last week, month, or year, etc. All details and data can manage on time to make the cash processing business successful.
Banknote Serial Number Tracking Data
In recent years, the serial number of banknotes application got more focus from all over the world. Considering your requirements, Julong developed a platform for equipment connecting and data management. Our devices perform high tech identification technology with high-resolution sensors to work out precise results from different currencies. Data of banknotes' serial no. can be saved in the cash processing machines, an SD card, or upload to the server, which makes storage more flexible. The whole circulation process of cash and the note details information can be traced according to its serial number, including the banknote version, denomination, authenticity, the grade of old or new, machine number. etc. All details above can be bind with your specific client, so if some counterfeit dispute occurred, we can settle down with a perfect trace and monitoring solution. Our integrated equipment system service platform will do the best to boost banks' security.